Saina loses final, settles for World badminton silver
Jakarta: It was heartbreak for Saina Nehwal and all her fans as the Indian badminton ace lost the women's singles final to Spanish top seed and title holder Carolina Marin to settle for the silver at the World Championships on Sunday.

World No.1 Carolina took just a minute less than an hour to beat the Indian second seed 21-16, 21-19 at the 9,000-seater Istora Senayan in Jakarta.

This was the World No.1 Spaniard's second consecutive win over Saina in five career meetings. Also, this was the fourth final between the two with the only non-final being a quarterfinal clash at the 2013 Indonesia Open which Saina won.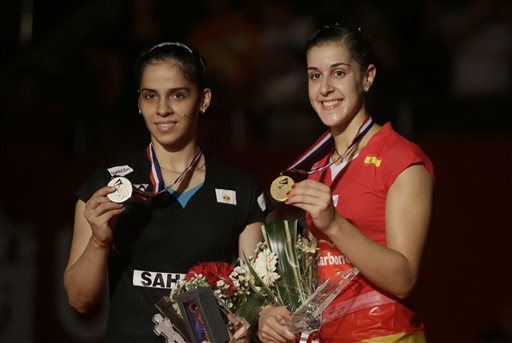 Though Carolina won the first point of the match, constant errors made sure World No.2 Saina had the lead in the earlier stages of the first game.

The Spaniard drew level at 7-all. But from there, it was just a one way show as the 22-year-old Carolina kept earning points via several winners, something that Saina was unable to halt.

Both shuttlers displayed brilliant athleticism but when it came to winning the long rallies and points at the net, the top seed proved far better than the Indian.

By the end of the first game, Saina's body language did not look positive. On the other side of the court, Carolina grew more and more confident and proved why she is the World Champion by going on to easily win the game.

Saina started the second game on a more positive note. She started hitting some exquisite smashes, beyond the reach of the Spaniard. With a brilliant display of on-court skills, the 25-year-old Saina took a 12-6 lead in the second game and looked well on course to level the match.

But the defending champion wouldn't give up. With the help of some fantastic cross court drops from the back of the court, Carolina made a brilliant comeback to notch the next seven points and go 13-12 up.

The reigning European champion almost played a faultless game. She picked up every smash, every drop that came her way and was at ease while picking Saina's body smashes which did not help the Indian's morale. Ironically, the Olympic bronze medallist was not being able to pick Carolina's body smashes.

The Hyderabadi somehow closed the gap at 18-all but two brilliant winners from Carolina saw her earn two championship points. Saina saved one but a wide drop handed the Spaniard her second World title.

This is the fifth time an Indian has won a medal at the World meet. Prakash Padukone became the first Indian to win a bronze in 1983 in men's singles. India waited for another 28 years when Jwala Gutta and Ashwini Ponnappa clinched the women's doubles bronze in 2011.

P.V. Sindhu won two back-to-back women's singles bronzes in 2013 and 2014 and now Saina, for the first time, has won a medal a rung higher than bronze.

'I have not spoken to Saina yet. She is quite a sensitive girl. We are satisfied but obviously the gold would have multiplied our happiness four times,' Saina's father Harvir Singh told IANS over phone from Hyderabad.

'It is a historic moment. The World Championships are being played since 1977 and it is the first time an Indian reached the final. Prakash-ji won the medal first then Jwala, Ashwini, Sindhu... it shows we are improving. These young kids are our torch bearers and I pray to God that they bring more laurels for the country.'