Apprenticeship at Naval Ship Repair Yard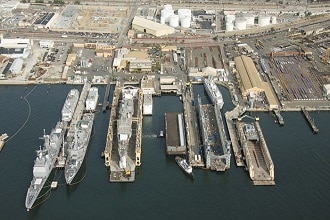 Kochi: Naval Ship Repair Yard, Kochi, has invited applications for the Apprenticeship Training from ITI (NCVT) qualified candidates as per Apprentices Act 1961.
(a) One Year Training. Electrician, Electronic Mechanic, Fitter, Turner, Machinist, Welder, Mechanic Ref & AC, Painter (General), Programming and System Administration Asst (PASAA) or Computer Operation programming Asst. (COPA).
(
Two Years Training. Diesel Mechanic (I.C. Engine Fitter), Ship Wright (Wood) OR (Carpenter), Sheet Metal Worker.
Eligibility Conditions.
Candidates qualified in one/two year ITI (NCVT) training in respective trades only need apply. Candidates who have already undergone or undergoing apprenticeship training under Apprentice Act-1961 in any other Govt. /Public Sector/ Private Industrial organization are not eligible to apply.
(a) Qualifications.
Candidates scored above 50% marks in Matric /equivalent or Xth class and above 65% marks in the ITI (NCVT) Examination.
(
Age: Candidates should have completed 14 years and below 21 of age as on 01 Oct 14. Upper age limit of 21 years is relaxable for SC/ST/OBC candidates as per Govt. Rules in force.
© Minimum Physical Standards : Height 150 Cms, Weight 45 Kg, Chest Expansion 5cms, and Eye Sight 6/6 to 6/9 without corrective glasses, Candidates should be medically fit and external/internal organs normal
Selection Procedure.
Candidates will be short listed based on the marks / weightage obtained in SSLC/ Matric/ X th class and ITI (NCVT) Examinations and performance in NCC /NSS /Sports / Games / Extra-curricular activities. Short listed candidates would be required to appear for written examination and interview for which call letters will be issued.
How to Apply:
Application on white paper furnishing candidates bio-data, the trade in which apprenticeship is sought, together with attested copies of certificates as proof of age, educational and technical qualifications and NSS / NCC / Sports/ Games/ Extracurricular activates are to reach THE ADMIRAL SUPERINTENDENT, NAVAL SHIP REPAIR YARD, NAVAL BASE, KOCHI ? 682 004, before

03 Aug 14.
Name of the Trade applied for is to be indicated on the envelope.
THE ADMIRAL SUPERINTENDENT,
NAVAL BASE, KOCHI ? 682 004
For detils, see the link: