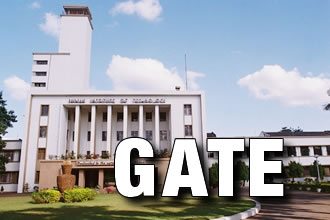 July 14,2014: Graduate Aptitude Test in Engineering (GATE), the all India examination that primarily tests the comprehensive understanding of the candidate in various undergraduate subjects in Engineering/ Technology/ Architecture and Post-graduate level subjects in Science will be held as online Test on January 31, 2014, February 1, February 7, February 8 and February 14, 2014
The GATE score of a candidate reflects a relative performance level in a particular subject in the exam across several years and is used for admissions to Post-graduate Programs like M.E., M.Tech, and direct Ph.D in Indian institutes of higher education with financial assistance provided by MHRD and other Government agencies. The score may also be used by Public and Private Sector Undertakings for employment screening purposes.
The Indian Institute of Science (IISc) and seven Indian Institutes of Technology (IITs at Bombay, Delhi, Guwahati, Kanpur, Kharagpur, Madras and Roorkee) jointly administer the conduct of GATE with IIT Kanpur as the Organizing Institute (OI) FOR 2015. They would be responsible for the end-to-end process and coordination amongst the administering Institutes.
A valid GATE score is essential for obtaining financial assistance during Master's programs and direct Doctoral programs in Engineering/ Technology/Architecture, and Doctoral programs in relevant branches of Science in Institutes supported by the MHRD or other Government agencies.
As per the directives of the MHRD and depending upon the norms adopted by a specific institute or department of the Institute, a candidate may be admitted directly into a course based on his/her performance in GATE only or based on his/her performance in GATE and an admission test/interview conducted by the department to which he/she has applied and/or the candidate's academic record.
If the candidate is to be selected through test/interview for post-graduate programs, a minimum of 70% weightage will be given to the performance in GATE and the remaining 30% weightage will be given to the candidate's performance in test/interview and/or academic record, as per MHRD guidelines. The admitting institutes could however prescribe a minimum passing percentage of marks in the test/interview. Some colleges/institutes specify GATE qualification as the mandatory requirement even for admission without MHRD scholarship/assistantship. To avail of the financial assistance (scholarship), the candidate must first secure admission to a program in these Institutes, by a procedure that could vary from institute to institute. Qualification in GATE is also a minimum requirement to apply for various fellowships awarded by many Government organizations.
Candidates are advised to seek complete details of admission procedures and availability of MHRD scholarship/assistantship from the concerned admitting institution. The criteria for postgraduate admission with scholarship/assistantship could be different for different institutions. The management of the post-graduate scholarship/assistantship is also the responsibility of the admitting institution. Similarly, reservation of seats under different categories is as per the policies and norms prevailing at the admitting institution and Government of India rules.
Several public sector undertakings including Indian Oil Corporation Limited, National Thermal Power Corporation, Power Grid India etc; have, in the past, used GATE scores for screening for providing a salaried employment.
Eligibility for applying for GATE is as follows. Applicant should satisfy one among the different criteria prescribed.
(i) B.E/B.Tech/ B.Arch/ B.Pharm: Those who are currently in the 4th year or have already completed Bachelor's Degree in Engineering/Technology/ Architecture/Pharmacy (Post-Diploma/Post B.Sc./ 4 years after 10+2)
(ii) B.S: Those currently in the 4th year or have already completed Bachelor's Degree in Science (Post-Diploma/ 4 years after 10+2)
(iii) M. Sc./ M.A./MCA or equivalent: Those currently in the final year or already completed Master's degree in any branch of Science/Mathematics / Statistics / Computer Applications or equivalent
(iv) Int. M.E/ M.Tech (Post-B.Sc.): Currently in the 2nd/3rd/4th year or already completed Post-BSc Integrated Master's Degree programs in Engineering / Technology (Four year program)
(v) M.Tech or Dual Degree(after Diploma or 10+2): Those currently in the 4th/5th year or already completed Integrated Master's Degree program or Dual Degree program in Engineering / Technology (Five year program)
(vi) Integrated M.Sc/ Integrated B.S-M.S: Those currently in the final year or already completed Integrated M.Sc. or Five year integrated B.S.-M.S. program
(vii) Professional Society Examinations (equivalent to B.E./B.Tech./B.Arch.): Those who have completed section A or equivalent of such professional courses like B.E./B.Tech./B.Arch. equivalent examinations, of Professional Societies, recognized by MHRD/UPSC/AICTE (AMIE by Institution of Engineers-India, AMICE by the Institute of Civil Engineers-India)
The Copies of Certificates to be submitted by those who passed in the year 2014 or earlier and by those expected to complete in 2015 or later are given in the Prospectus. Applicants, who have to submit a certificate from their college Principal, as prescribed in the Prospectus, have to obtain one from his/her institution beforehand and upload the same during the online submission of the application form. Those who have appeared in the final semester/year exam in 2014, but with a backlog (arrears/failed subjects) in any of the papers in their qualifying degree should upload a copy of any one of the mark sheets of the final year or should obtain a declaration from their Principal along with the signature and seal beforehand and upload the same during the online submission of the application form.
GATE 2015 will be conducted in 22 different subjects. The subject and the codes are as follows. Aerospace Engineering (Code AE); Agricultural Engineering (AG); Architecture and Planning (AR); Biotechnology (BT); Chemical Engineering (CH); Chemistry (CY); Civil Engineering (CE); Computer Science and Information Technology (CS); Ecology and Evolution (EY); Electrical Engineering (EE); Electronics and Communication Engineering (EC); Engineering Sciences (XE); Geology and Geophysics (GG); Instrumentation Engineering (IN); Life Sciences (XL); Mathematics (MA); Mechanical Engineering (ME); Metallurgical Engineering (MT); Mining Engineering (MN); Physics (PH); Production and Industrial Engineering (PI); Textile Engineering and Fibre Science (TF). A candidate can appear in only 1 paper.
Application can be submitted only online. Application fee for GATE 2015 for male applicants (General/OBC) is Rs. 1500/-. For women applicants of any category, other applicants (General/OBC) and SC / ST / PwD (Person with a Physical Disability) applicants, it would be Rs.750/-.
Payments would have to be made online by selecting either SBI I-collect or Axis Bank I-Connect, or using any bank Debit Card/Credit Card, Net Banking and e-challan facilities only. Additional charges will be applicable as per the rule of the bank from where the money is being transferred.
The Prospectus for GATE 2015 can be downloaded from http://gate.iitk.ac.in/GATE2015/